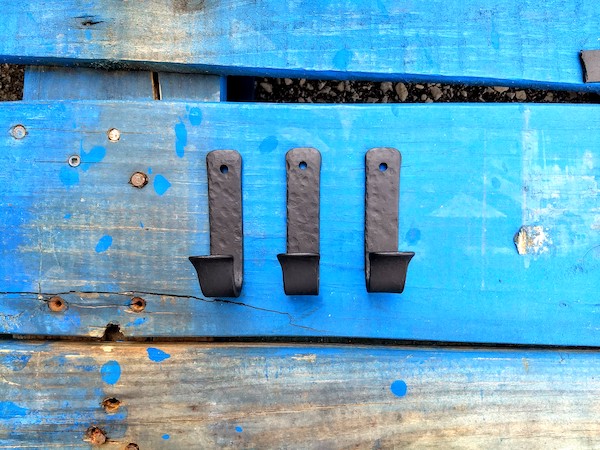 Where can you find handmade black hooks for the home?
Since the very beginning of Brown County Forge, my focus has been on making high-quality hooks out of steel.
I've made thousands of hooks over the years. Brass, raw steel, beeswax finish, painted, oar hooks, decorative hooks…
You would think a profession with a name like blacksmith that the hooks would be naturally black.
When they come directly from the forge, they're actually closer to a dark gray.
It's only through finishing and/or painting that they become black.
What Black Hooks Do You Make?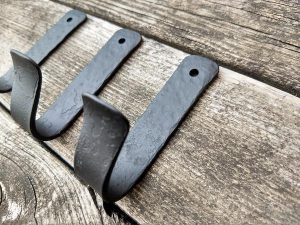 I usually stick with one best-selling style of hook with these features (pictured above):
Slightly flared hook tips.
Hammered finish.
Nice wide hook bends big enough to hang up a coat or handbag.
All hooks and hook sets come with matching hardware (screws) so you can hang them right out of the package.
How Big Are Your Hooks?
The hooks I make meet these measurements:
3-1/2 Inches Tall
3/4 Inch Wide
1/8 Inch Thick
7/8 Inch Bend (approximately)
They can be hung with the included black #6 slotted button head wood screws.
What Can Your Hooks Be Used For?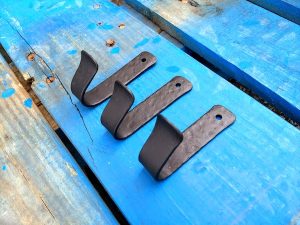 My customers tend to use my hooks for hanging coats and handbags.
Some hook styles are more specific than others.
The oar hooks are made just for hanging oars, for example.
My cup hooks are for hanging up coffee mugs or tea mugs.
The black ones are best for the front hall, the kitchen, and the mud room, but you are welcome to use them anywhere you like!
How Much Do They Cost?
The black hooks come in sets of three for $39. If you're buying them separately, that comes to $13 per hook.
For comparison:
A single Amigo Modern Bent Metal Wall Hook in Matte Black from west elm is $18.
The imported Overscaled Cast Iron Hook from Pottery Barn is $29.50 per hook.
The two hooks above are very different styles so they are difficult to compare.
My aim with my hooks is to offer a classic, rustic hook that's not fussy or overly modern.
If it suits your style, I would be happy to make a set for you!
How and Where to Order
I sell all of my hardware and hooks in my Etsy Shop:
Here is the direct link to the hooks:
Black Hooks – Brown County Forge
You don't need an Etsy account to checkout.
If you have any additional questions about the hooks, please feel free to send me an email:
Thanks!
-Terran the Blacksmith