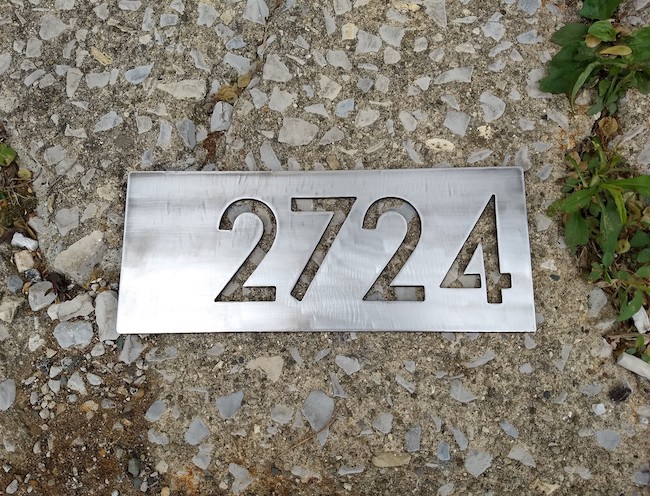 Do we ship address plaques to Canada?
Yes, we ship address plaques to Canada! From Montréal, QC to Vancouver, BC and we're happy to do it for a flat rate.
We make them here in Indiana, carefully package them up, and ship them via the US Postal Service.
In 6-10 days your new, custom house number plaque should be at your door ready to be installed.
How much do the plaques cost in CAD?
Each plaque is $167 CAD plus $48 for Priority International 6-10 Day shipping.
Total cost: $215 CAD (depending on the current exchange rate)
How are the plaques made?
Each 11.43 cm by 27.94 cm plaque is cut from a single piece of 3-mm thick stainless steel.
The numbers that you specify will be 7.62 cm tall leaving a nice solid border with a right-side offset (see photo).
The stainless steel is corrosion-resistant so you don't have to worry about rust.
The surface is wire-brushed and polished for a smooth finish and soft shine.
How will it be packaged?
We use bubble-padded USPS Priority Mail envelopes to keep shipping costs low.
To secure your address plaque, we carefully place it between two sturdy pieces of cardboard with plenty of packing tape.
A small tube of Gorilla Glue Original is included in the package so you can mount your plaque right away.
How do you mount your plaque?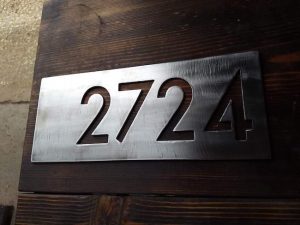 Rather than drill holes into your siding and expose your house to moisture and pests, we recommend using a construction adhesive like the Gorilla Glue mentioned above.
It bonds to wood, stone, metal, ceramic, and glass and it's waterproof.
You can mount it on brick siding, vinyl siding, or wood with no trouble.
For each siding type the process is the same:
Dampen the siding to help the adhesive cure properly.
Apply the adhesive to the back of the address plaque.
Press the plaque firmly to the dampened area.
Secure it to the wall with painter's tape or masking tape for at least the first 2 hours to allow it to cure. It will be fully cured after 24 hours.
Once you mount it, it's there to stay.
Here's more detailed information about mounting on brick.
And here's how to install on wood.
Where can you buy yours?
Please contact Terran Marks, the owner of Brown County Forge:
email – browncountyforge@gmail.com