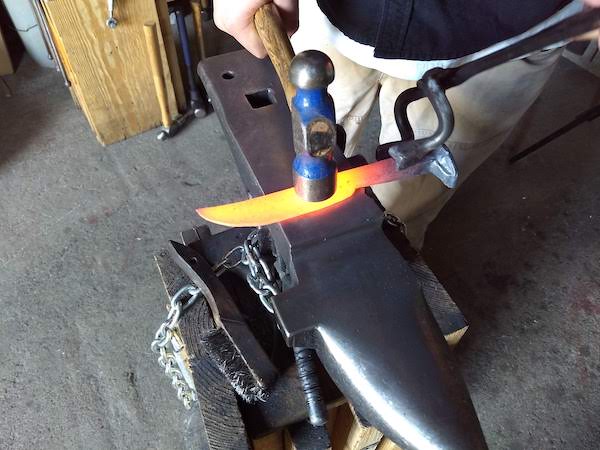 Dagan Stocks, the chef-owner of Red Barn Kitchen (Decatur, Illinois) made the trip to the shop today to forge his first knife.
As a long-time professional chef, Mr. Stocks has used many knives over the years. He also has a good-sized personal collection.
During the class, we geeked out a bit over Bob Kramer's Meteorite Knives while I showed Stocks how to forge steel the old-fashioned way.
First Time Forging – Excellent Results
I've had a few professional knife wielders and collectors in the shop over the years. They consistently do a great job.
I think using and studying a tool for a long time makes it easier to forge.
With over 530 student projects at the shop over the years, having manual dexterity and heat tolerance help, too.
An Epic Gift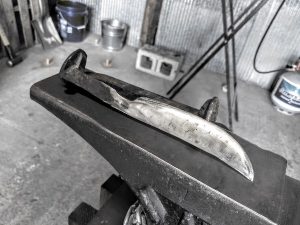 Mr. Stocks didn't end up at Brown County Forge by chance.
His wife set up a weekday knife class for him some months back.
After solving some scheduling issues, we were able to make it happen.
Putting the Knife to Use for Red Barn Kitchen
Stocks plans to use the knife to section some hogs for the restaurant.
The pork will be sliced into the cuts he needs for his barbecue entrees.
Is it sharp enough, you might ask?
Yes, it is. He took his time grinding in the bevel and hand filing to get it sharp enough to slice.
He'll be using his personal whetstones to put the final edge on it.
Is forged steel food-safe?
Absolutely! Your kitchen knives at home are made out of steel.
Granted, very few of you will have forged blades, but steel is a great choice for cutlery.
It's durable, easily cleanable, and won't transfer food particles like porous plastics.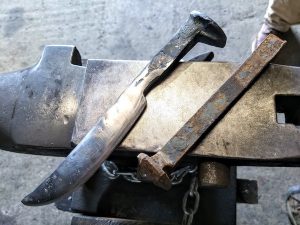 More Info on Red Barn Kitchen
To experience their farm-to-table comfort food, craft cocktails, and a huge selection of whiskeys go to:
910 S. Airport Rd.
Decatur, IL 62521
217-330-7777
Thanks for making the drive to Brown County Forge!