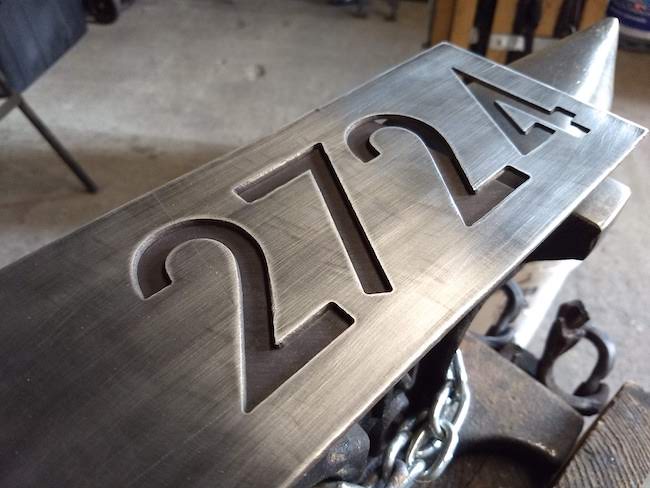 You're ready to upgrade your house numbers from the flimsy vinyl ones that Lowe's and Home Depot sell, but you want to know how much do quality house numbers cost?
First, Let's Define Quality House Numbers
When it comes to house numbers, we take these 3 things into consideration:
Style
Durability
Ease of Installation
The ideal house number set or address plate should hit all three of these marks.
It should accent and improve the style of your home's curb appeal.
Once you put it up, you want to be sure that it's not going to fall apart, chip, or break in a couple years.
It should be so easy to install that it takes less than 10 minutes from start to finish. You're a busy person and this shouldn't take up half your Saturday.
Lowe's Vs. Brown County Forge House Numbers
Let's compare Lowe's Whitehall Satin Nickel Aluminum Address Plaque Kit to Brown County Forge's Stainless Steel Address Plate.
Lowe's Address Plaque – $32.48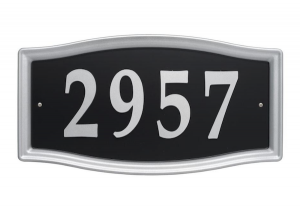 8 inches tall by 15.75 inches wide
Includes 26 four inch tall numbers
0.5 inch thick Aluminum
Mounting hardware and instructions included
Pros
It's fairly large so the address will be easy to read from the  street. This makes it easier for visitors to find your house.  (Depending on your privacy concerns, this may or may not be a good thing.)
Aluminum holds up very well to all kinds of weather, even salty sea air. It's corrosion-resistant.
It costs less than $35.
Cons
Your Lowe's isn't guaranteed to have it in stock at the store. My local store only has one available.
It comes with 26 numbers. That's A LOT of numbers! What do you do with the leftovers? Throw them away? Give them to your kids to play with?
Only one orientation: horizontal. What about vertical house numbers?
To mount it, you'll need to drill into your siding a little bit. Any time you do this you break the building's "envelope" and risk letting in moisture and pests.
Brown County Forge Stainless Steel Address Plate – $125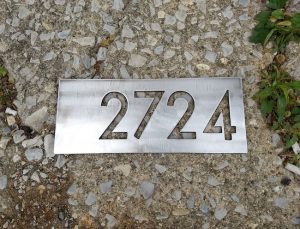 4.5 inches tall by 11 inches wide
Custom made one at a time with your house numbers
1/8 inch thick stainless steel
Mounting supplies and instructions included
Pros
Each one is custom made for you with your address numbers. No numbers left over. Completely unique to you.
The size is customizable for a small fee if you want to go BIG (Usually less than $15).
You can make the numbers vertical.
Made out of stainless steel so it won't rust, break, or fall apart. Good for all weather and locations.
Shipped directly to you for Free. No trip to the store. No overwhelming search through all 76 aisles.
Easy to mount instructions using construction adhesive rather than screws. No need to drill holes in your house to mount.
Cons
More expensive than the mass-manufactured Lowe's numbers.
Once you mount it, it's there for good. (The adhesive is REALLY strong.)
Stainless can be too shiny/eye-catching for some people. There are ways to dull the finish, though.
Which House Numbers Sound Best to You?
I'll admit that I'm biased right off the bat. I take a lot of pride in the quality of the house numbers we make at Brown County Forge.
Each plate we custom make for our customers is hand-finished, polished, and carefully packaged so it arrives at their door in pristine shape ready to mount.
If you'd like to read more about our house numbers, I recommend this post:
If you're ready to talk about your numbers, I'd love to hear from you.
My name is Terran Marks and I'm the owner of Brown County Forge. I can be reached here:
Email: browncountyforge@gmail.com