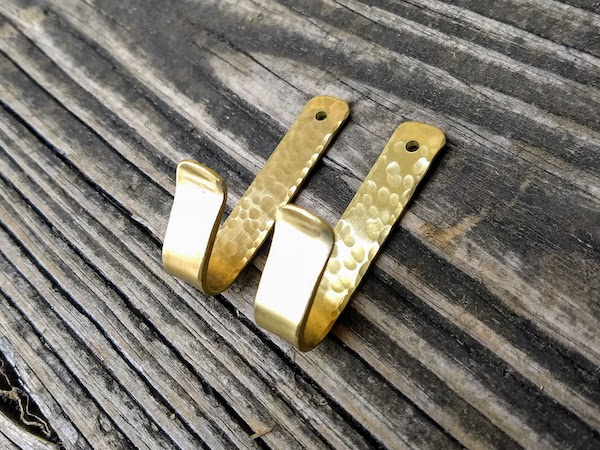 Searching for some small decorative brass hooks?
We make them by hand, one  at a time at Brown County Forge.
Our Small Decorative Brass Hooks
How small are they?
Each hook is about 3 inches tall and made out of 1/2-inch wide brass that is 1/8-inch thick.
The hook bend is 3/4-inch at the top, tapering to a 1/2-inch wide curve at the bottom.
What can they be used for?
Your bright brass hooks can be used:
As coat hooks.
For hanging handbags and purses.
In the kitchen for hanging copper pots and pans.
In the bathroom for hand towels.
For hanging dog leashes.
They're perfect for keeping things up off the floor with an elegant flair.
Available in Singles, Pairs, and Sets of Three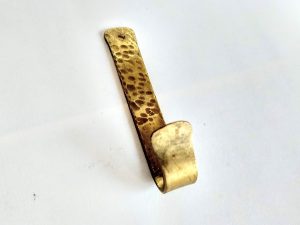 You can use them one at a time, as pairs, and in sets of three.
Each pair of hooks is made to match each other and the same is true for the sets of three.
If you need more than three, you can order multiple sets or combine different quantities.
Need 5 for example? Order a set of three and a pair.
What Issues Are There With Brass Hooks?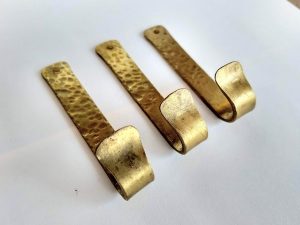 Brass is a sturdy metal that holds up well as home hardware.
To keep it in great shape, you may want to polish it from time to time.
Polishing brass can be done with just a few common ingredients:
To make your brass polishing solution, heat 16 ounces of water and add 2 Tablespoons of salt and 2 Tablespoons of white vinegar.
Rub this mixture onto the brass and then dry off with a separate dry rag.
For more brass polishing options, this Mother Nature Network article is helpful:
How Much Do Decorative Brass Hooks Cost?
Mass-produced brass hooks can range from $6.99 – $30+ per hook.
Our handmade hooks are $11 each. $22 for a pair. $33 for a three-set.
We sell them in our Etsy shop here.
Need Some Help or Have Questions?
Terran, the owner of Brown County Forge and the blacksmith who makes these brass hooks, is always happy to help.
He can be reached by email here: