I hope your holidays were good and 2016 has gotten off to a roaring start. It sure has at the Forge. Classes start tomorrow evening and they're quickly filling up for the rest of the month. I'm excited about sharing this set of skills with people interested in blacksmithing.
That brings us to the title of this Shop Update and New Year's Resolutions. I'm not much for limiting resolutions to the first of the year. You end up getting super-motivated for the rest of January, maybe a little into February, and then you peter out.
It's been more effective for me to make changes as I go along. When inspiration to change something hits, that's when I resolve to do it differently. With that said, this is still the time of year many people are very focused on setting goals.
So here's the one goal I'll put forward for the year: create something with your hands.
Plant seeds
Throw a pot
Knit some socks
Make a collage
Build a bench
___________
There's something extremely satisfying in taking raw materials, applying pressure and energy, and turning them into something else. You might move dirt around, push a seed into it, and wait patiently for spring to bring you blooms. You might cut up a bunch of magazines and create a collage of what you'd like your year to be. Laughter, sun, good food…
You might find some metal, throw some coal in an old grill, get it hot, and bend it into something beautiful.
Making Creating Easier
Here at Brown County Forge we're pretty specific about how we help people create. We take one of the hardest materials on the planet, apply heat and energy, and turn it into something beautiful and useful.
To make this easier, the Forge is sponsoring a Hammer and Tongs Giveaway with DIY Blacksmithing.
From now (11 AM January 7) until 11:59 PM January 10, folks from around the U.S. are putting their names in a virtual hat to win a Peddinghaus Blacksmith's Hammer and a set of Wolf Jaw Tongs.
If you're interested, you can find the giveaway here (It's Free):
DIY Blacksmithing's Hammer and Tongs Giveaway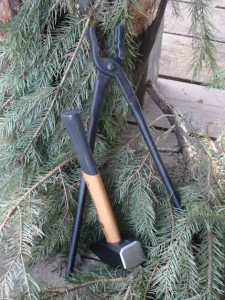 Enjoy January and start making things!