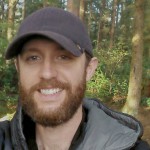 Brown County Forge is located in Bloomington, Indiana at:
611 W. 11th Street
Bloomington, IN 47404
The shop email address is browncountyforge@gmail.com.
The shop phone number is 812-269-6350.
Terran Marks, the blacksmith and owner of Brown County Forge, offers handmade home hardware and teaches weekly blacksmith classes.
Brown County Forge History
Terran learned the blacksmithing trade in 2011 at the John C. Campbell Folk School in Brasstown, North Carolina and has been dedicated to it ever since.
After serving as a wildland firefighter in the Pacific Northwest from 2010-2015, he came back home to Indiana to start his business.
In January of 2016, he started offering blacksmithing classes. Since then he has taught over 500 people from across the Midwest how to forge steel.
To keep track of what's going on at the forge, please check out the Shop Blog.
You can see hundreds of photos and videos from the shop on Facebook, too.
Other Activities
Terran also runs DIY Blacksmithing, a website offering how-to's, a blacksmith school map, and resources to help aspiring smiths get started. In response to the site's popularity he wrote The DIY Blacksmithing Book in 2015.
In 2019, he created an online, video-based blacksmithing course open to all ages and abilities called The DIY Blacksmithing Course. It's designed to take you through all of the steps from buying equipment to forging your first projects.
When Terran is not in the forge teaching a class or creating custom ironwork, he spends his time hiking the Brown County Hills and reading.
You can contact him with any blacksmithing questions you might have, check out the Classes page to schedule a class, or visit the Shop for your very own hand forged hardware.