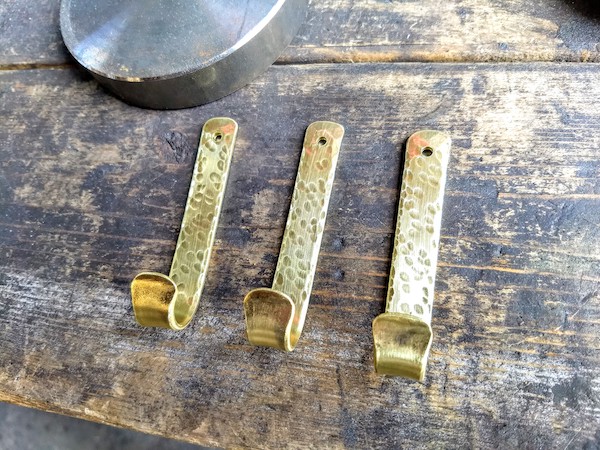 One of the orders this week was for a set of decorative brass wall hooks for a customer in California.
Most of the time I work in steel to make coat hooks and oar hooks, so taking a break with brass is a lot of fun.
The processes for working with each type of metal are very similar:
Softening sharp corners and edges.
Making decorative hook ends.
Bending the belly of the hook to a set size.
There's one exception to working with brass vs. steel, though.
Steel you work hot to make it soft enough to bend.
Brass you work cold because it is already very flexible.
How Big Are the Decorative Brass Wall Hooks?
Each decorative brass wall hook is 3-1/2 inches tall, 1/2-inch wide, with a 1/2-inch wide hook bend.
They're fairly small and make good hooks for hanging handbags, keys, and small items.
They come with matching brass screws so they're ready mount right out of the package.
What sort of finish do the decorative brass hooks have?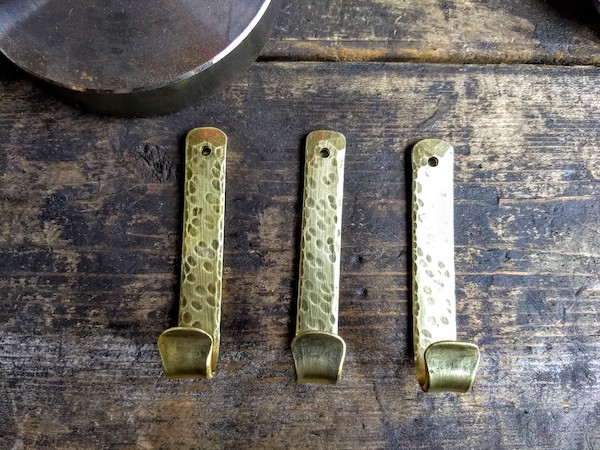 I give each hook a hammered finish using the back of a small, 8-ounce ball peen hammer.
I also soften the edges of the hook with the ball peen.
Each hook ends up being slightly unique, but they make a nice, bright matching set.
What Kind of Care Do The Hooks Need?
Like most brass hardware and fixtures, you may need to polish them from time to time.
Brass will tarnish if left alone and not used.
Your best way to combat that tarnishing is to hang your things on them and to use them.
The light friction and rubbing that happens when you do that will help keep them shiny and bright.
If you find you need to polish them, here are the steps to use:
Unscrew them from the wall.
Lightly rub them with a brass polish like Brasso or similar natural polish.
Wipe clean to reveal the renewed bright finish.
Remount them on the wall!
More Information On Our Brass Hooks
You can read more about the brass hooks I make in the Brown County Forge Etsy shop here:
You'll find all the brass hooks under the Shop Section "Brass."
Have questions about other hooks?
Feel free to send me an email: