Online Blacksmithing Course – Available by Request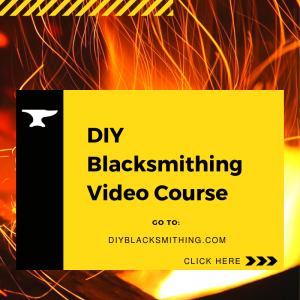 DIY Blacksmithing Courses – Online Blacksmith Classes
This is a series of online tutorials that I filmed and produced at Brown County Forge.
The course comes in 3 packages:
Blacksmithing for Beginners
Simple Knife Making
The Gold Package – Combines Beginners and Knife Making
You can start with the 37 Lesson Blacksmithing for Beginners Course.
The Simple Knife Making Course has 36 Lessons and is for you if you're more interested in knife forging.
The Gold Package with 47 Lessons includes everything in Bronze and Silver plus a complete Knife Making course.
Class Time: 24/7/365
Class Size: 1
Class Fee: Variable Depending on what you want to learn. 
Min. Age: All Ages Welcome! (With Parental Consent of course)
FAQ and More Information:
Are there online blacksmith classes?
There are online blacksmithing classes you can take right now, on your own schedule.
From basic blacksmith startup costs to the fundamentals of knife making, it's all available.
Where Can I Learn Blacksmithing Online?
There are two main options out there for picking up blacksmithing:
Searching through YouTube (which you've probably already done).
Enrolling in a course like the DIY Blacksmithing Course, an in-depth course I filmed and put together.
Searching Through YouTube
Pros
It's free. All it costs you is your time.
There are so many different projects you can get a birds-eye view of.
Cons
A step-by-step structure might be lacking in some of the videos.
Organization might be all over the place.
You could be dealing with conflicting information.
The DIY Blacksmithing Course!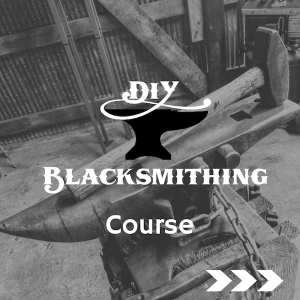 Pros
It was built with the beginner in mind. You follow video lessons step-by-step until you have a clear idea of what you need to get started, what skills you need to practice, and how to save a lot of money on equipment.
Well-defined projects explained clearly by a professional blacksmith.
One purchase for Lifetime Access.
If you don't like it you can request a refund within the first 30 Days. No questions asked.
Cons
It's not free. As mentioned above, there is a cost to it so it might not be for everyone.
If you don't like my delivery, my voice, my clothes, you'll have a hard time with it. 90% of the lessons are in video format so you'll be seeing a lot of me.
You may not be familiar with me. My name is Terran Marks. I'm a professional blacksmith and I run Brown County Forge. Please take some time to read the About page on this site, browse books on Amazon, or take a deep dive into my first website: DIY Blacksmithing.
What All Do I Get in the DIY Blacksmithing Online Course?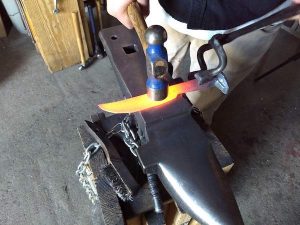 When you sign up you'll gain access to a full library of blacksmithing lessons containing the following:
Anvil Anatomy
Anvil Stands
Rockwell Hardness
Buying Anvils
Forges
Gas vs. Coal
Buying vs. Building Forges
Forging Temp and Color
Forgemaster Forges
Majestic Forges
Lighting Forges
Fire Pokers
Shop Safety
Hammer Types
Cross Peens
Hammer Techniques
Tong Basics
Tong Techniques
Buying vs. Making Tongs
Mild steel vs. High Carbon
Buying Hammers
Spark Test
Finishing Steel
Buying Metal
Drawing Out
Scrolling
Quenching
Bending
Twisting
Upsetting
Knife Making
Annealing
Thinning the Blade
Notching
Beveling
Straightening
Hardening
Tempering
Profiling
Sharpening
Basic Costs
Creating Your Workspace
You can pause and come back to a lesson any time you need to. There's no expiration date on it.
It's fully organized with step-by-step lessons to get you up to speed with modern blacksmithing.
Want to save a few hundred dollars on a forge?
The lesson on forges will show you where to go to find the best deal on forges.
Not sure what hammer to use?
We take a deep dive into blacksmithing hammers and what you should look for.
The secret is in the weight of the hammer, but it doesn't have to be super-heavy.
Where do you buy anvils?
I'll give you my recommendations on buying anvils under $300 and how to get them shipped directly to you for less than $20.
How to Sign Up:
Contact us: browncountyforge@gmail.com