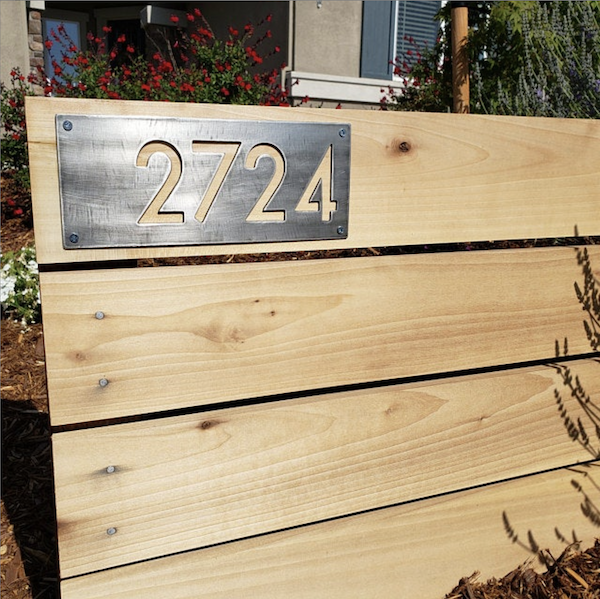 A Recent Metal House Number Review
When I hear back from customers with their feedback, like the metal house number review below, it means a lot.
I really enjoy designing metalwork for customers and making sure they get exactly what they need.
To give you some background, this house number plate was ordered through the Brown County Forge Etsy shop by a gentleman from Northern California (Sacramento area).
From the beginning we had good communication. I was able to correct a situation that could have been challenging for him.
The number plaques I offer are made out of 1/8-inch thick stainless steel. This helps them hold up against all weather conditions.
They won't rust or corrode whether they're near saltwater or in the desert.
The situation we ran into was related to mounting holes:
I prefer to leave the house number plates without holes to have a smooth finish, but I'm happy to drill out mounting holes.
He was looking for a plate with mounting holes.
Here's the Review: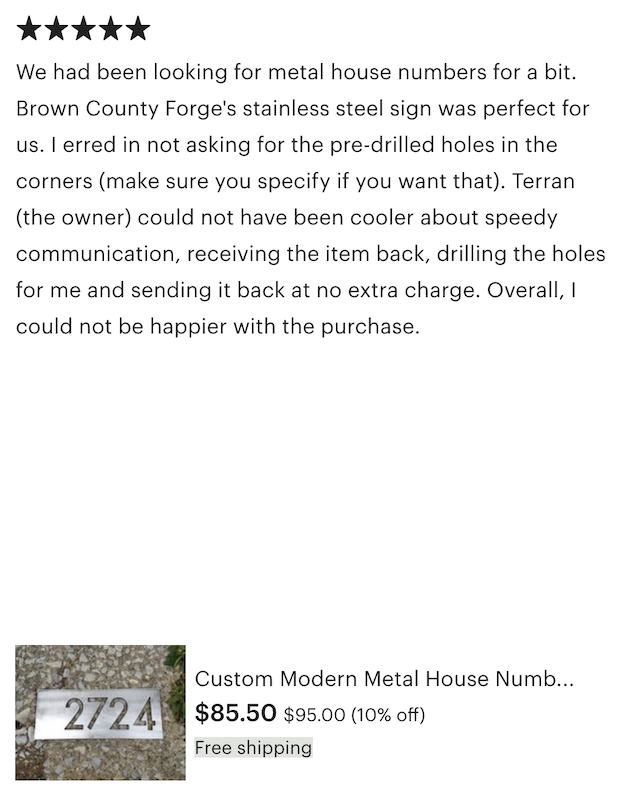 "We had been looking for metal house numbers for a bit. Brown County Forge's stainless steel sign was perfect for us. I erred in not asking for the pre-drilled holes in the corners (make sure you specify if you want that). Terran (the owner) could not have been cooler about speedy communication, receiving the item back, drilling the holes for me and sending it back at no extra charge. Overall, I could not be happier with the purchase."
What Happened
I had already shipped the number plate and sent him a note with mounting instructions.
After reading instructions that didn't include screws or mounting holes, he contacted me to clarify things.
I then realized the miscommunication and offered two options:
I laid out how he could drill the holes himself.
He could send the house number plate back to me as soon as he got it, I would drill it out, and send it back at no additional delivery charge (I refunded his return shipping).
Ideally, these situations wouldn't happen, but it's all part of doing business.
You won't always get it exactly right on the first try.
I'm grateful that the California gentleman was gracious and allowed me to create the perfect number plaque for him.