Blacksmith Classes in Indiana.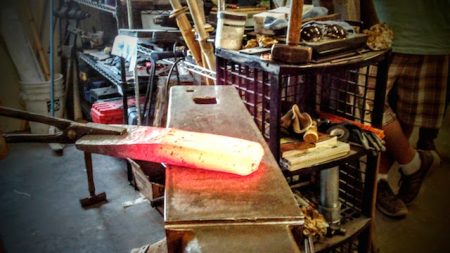 BEGINNERS BLACKSMITHING CLASS

ES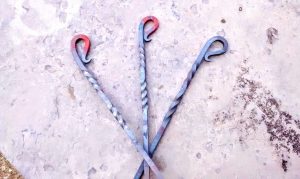 In your Beginners Blacksmithing class, we will cover the blacksmithing skills of drawing out, upsetting, bending, quenching, and scrolling.
You will hand-forge a project to take home using our forge, anvils, hammers, and tongs. Past projects have been fire pokers, wall hooks, S hooks, bottle openers, and keychains.
Great for Christmas Gifts, Birthdays, Father's Day, and Bachelor Parties!
See what past students have to say about Brown County Forge on the Reviews Page.
CLASS DETAILS:
Class Dates:
2021:  In-person Beginners Classes at the shop are Full. (Want to make a knife? See below for dates.)
The Online version of this class is OPEN and available to all ages:
KNIFE MAKING CLASS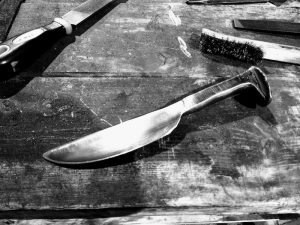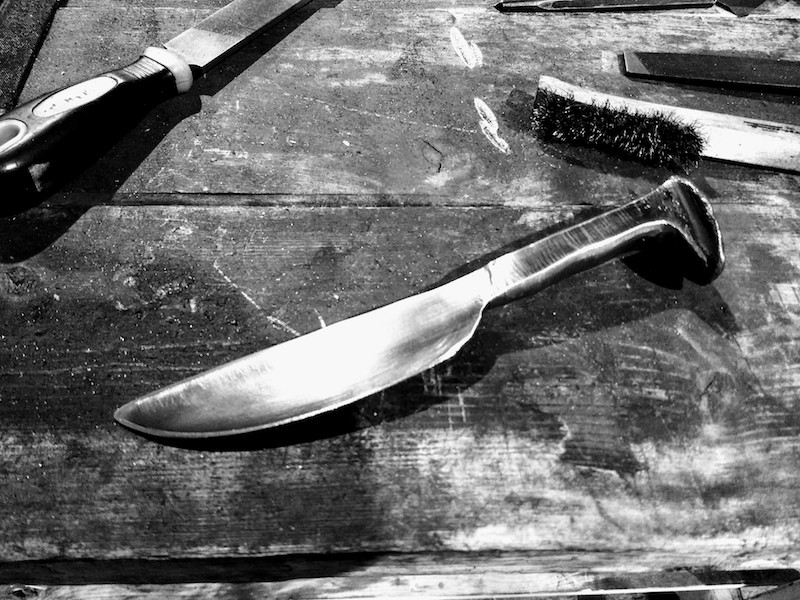 "This is awesome!" – Alex S.
In this knife making fundamentals class, we go through the process of hand-forging blades. 

You will start with raw material (railroad spikes) and hammer out a knife you designed.

Important

: You don't need past experience to forge a knife of your own.
In class, you will learn:
How to forge a knife from start to finish
Blacksmithing techniques
When to Harden Steel
Why and How to Quench
The Purpose of Tempering
How to Grind Knife Profiles
Hand-sharpening techniques
You will leave the class with a knife you forged.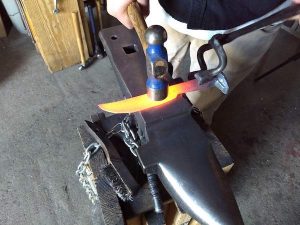 See what past students have to say about Brown County Forge and Terran Marks as an instructor on the
Reviews Page
.
CLASS DETAILS:
Time:   2 PM – 6 PM (single class session)
Size:   2 – 4 people
Cost:  $240 per person
Min. Age:   16 with parent or guardian present.
Class Dates:
2021:
SEPTEMBER: 25 (1 spot left)
OCTOBER: 9 (1 spot left)

NOVEMBER: 5, 12 (1 spot left), 19
To Book a Date: 
Want to Learn Blacksmithing Today?
I built three online courses with the blacksmithing beginner in mind. These courses are based on the in-person classes I've been teaching since 2016.
All Ages Welcome.
Learn at your own pace.
Get a solid foundation.
Find out how to save on equipment.
Learn Knife Making and/or Blacksmithing Fundamentals.
Over 55 Video lessons in the Gold Package.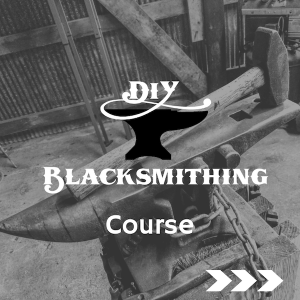 Preview the Courses for Free Here
Where are Blacksmith Classes Held?
Blacksmith Classes are held at:
Brown County Forge
611 W. 11th Street
Bay 18
Bloomington, Indiana 47404
Email: browncountyforge@gmail.com
FAQs:
Is there an age limit at Brown County Forge?
All students must be at least 16 years old with a parent or guardian present for in-person classes. Online classes are open to All Ages.
Can I book a weekday class?
Sometimes weekends get busy. If you'd like to secure an appointment during the week, it's as simple as:
We can talk about available dates and get you swinging hammers in no time!
Will I be able to complete the project?
Yes! Every student completes their project by the end of class.
Sometimes folks need some assistance, but we'll work together to get it done.
Legal Details and Age Requirements
Accident Waiver and Release of Liability
A signed accident and liability waiver is required before forging. Forms are provided when you arrive at the shop.
Age Requirements
If you are under 18, you must be accompanied by a parent or guardian. Your parent or guardian is not required to take the class with you, but they must stay on-site.
Minimum age is 16 years old.
Class Cancellation and Reschedule Policy
Let's work together to reschedule a class!
Contact me here to reschedule: browncountyforge@gmail.com
If you have to cancel or reschedule please do it at least 2 weeks before your class date. This allows me time to fill your spot(s) without negatively impacting fellow students and Brown County Forge.
Please read the full Class Cancellation and Reschedule Policy.
blacksmith classes