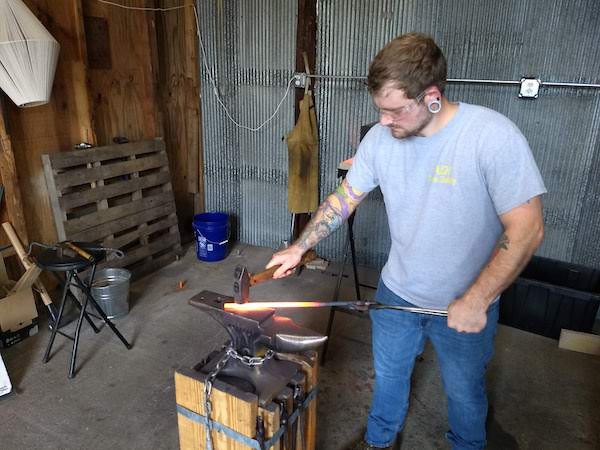 Jeremy from Seymour, Indiana Forges a Fire Poker
Seymour Indiana is just under an hour from Brown County Forge.
Jeremy made the trip west for the 10 AM Beginners Class at the shop to forge his own fire poker.
In the 2-3 hour Beginners Class, students have the option to make one of three items:
A traditional "J" hook.
A bartop bottle opener.
A fire poker with a twist in the handle.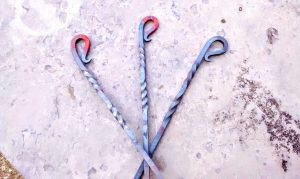 The decision about what to make usually comes down to what they would find useful.
The goal of every project and product that comes out of the shop is that it look good and be useful.
Jeremy opted for the fire poker so he could use it when he goes camping with his family.
Hammering It Out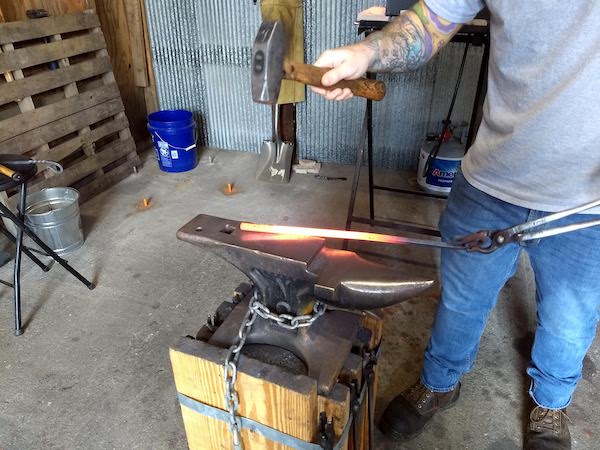 To forge the fire poker, we need to get the steel very hot: over 1500 degrees Fahrenheit.
The glowing yellow-orange you see in the photo is the steel's color straight out of the forge.
Now we have about 15 seconds to hammer on it before it gets too cold again.
We do 30-40 heats per project in the Beginners Class.
The Blacksmith Equipment We Use
Having the right equipment definitely makes it easier to blacksmith.
Jeremy used one of our 70 pound NC Tool Company anvils as his work surface.
Some benefits of this lighter anvil:
You can work steel up to 1 inch thick.
It's easy to move around by yourself.
It costs a lot less than larger anvils. (A 70 lb, anvil like this will run you about $280.)
Other tools Jeremy used:
A Majestic Knifemaker Economy Forge – This is a two-burner forge made by a company based in Ohio.
Centaur Forge V-bit Bolt tongs for holding on to the fire poker while he forges it.
Vaughan 2.5 pound blacksmith's hammer. A very solid hammer that has held up for almost a decade of steady use.
Was the Gentleman from Seymour Indiana Successful?
Absolutely!
Jeremy came away with a great fire poker that he forged on his own.
He was proud of what he was able to accomplish with no prior experience.
I think this gift from his wife was a success!