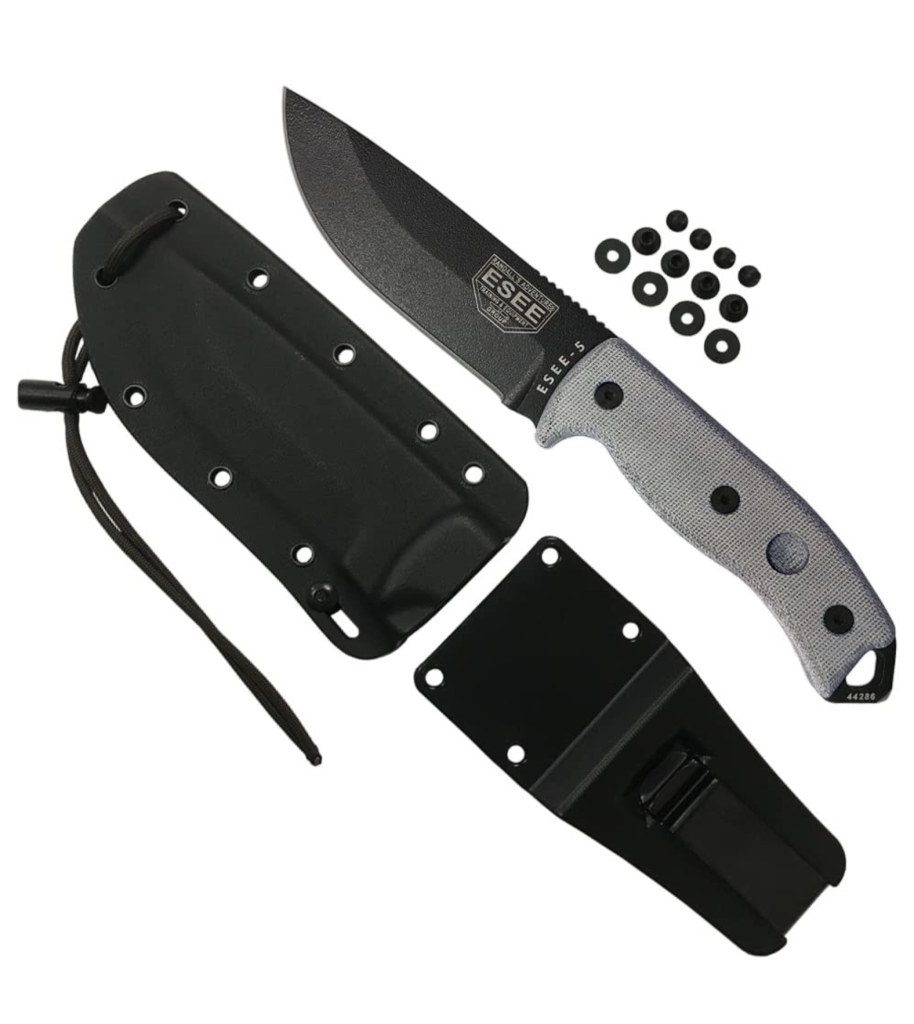 In this ESEE-5 knife review, we explore a robust and versatile tool designed for demanding expeditions.
With its exceptional build quality and reliability, ESEE knives have earned a reputation as a go-to companion for adventurers, survivalists, and outdoor enthusiasts.
Join us as we dive into the knife's models, high-quality blade materials, thoughtfully designed sheaths, and unique features that set it apart from the competition.
Knife Models and Sturdy Construction
The ESEE-5 comes in various models, all sharing a commitment to durability and performance.
ESEE Authentic Model 5 Tactical Fixed Blade (pictured above) – Amazon.com
ESEE – 1095 Carbon Steel with Black Kydex Sheath – Amazon.com
ESEE Plain Edge No Sheathing – Amazon.com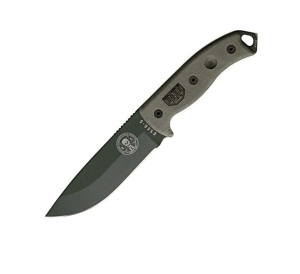 Each model showcases a full-tang construction, meaning the blade extends throughout the entire length of the knife, enhancing its strength and resilience.
With blade lengths ranging from 5.25 to 5.75 inches, the ESEE Model 5 offers a versatile size suitable for a range of tasks, from campsite chores to survival scenarios.
Looking for information on ESEE folding knives? Go here.
High-Quality Blade Materials
ESEE Model 5 knives are crafted from 1095 high carbon steel, renowned for its exceptional durability, edge retention, and ease of sharpening.
This premium blade material allows the Model 5 to withstand rigorous use and abuse in challenging environments.
The carbon steel blade is coated with a protective layer of black powder coating, guarding against corrosion and reducing reflections that could compromise stealth and situational awareness.
ESEE 5 Knife Sheaths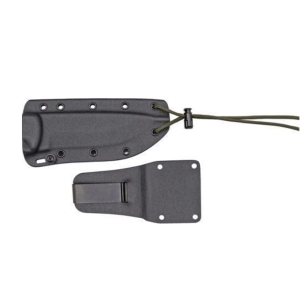 ESEE-5 knives come with a molded polymer sheath designed for secure storage and convenient access.
The sheath features a removable clip plate, allowing for versatile attachment options to belts, packs, or gear.
It also incorporates a retention strap and a drainage hole, ensuring the knife stays firmly in place and preventing moisture accumulation, which can be detrimental to blade longevity.
Unique Features for Enhanced Functionality
The ESEE-5 boasts several unique features that enhance its versatility and usability.
A glass breaker pommel allows for emergency situations, providing a reliable tool for breaking glass or other materials.
Textured handle scales provide a comfortable and secure grip even in wet or gloved conditions, minimizing the risk of slippage.
Additionally, the knife features a lanyard hole, offering an extra attachment point for added convenience and security.
Dependability in Extreme Environments
Built to excel in extreme environments, this knife is a true workhorse.
Its robust construction, coupled with the high-quality blade material, ensures reliable performance even in the harshest conditions.
From survival situations to heavy-duty outdoor tasks, this knife series delivers the durability and cutting power needed to tackle challenges with confidence.
This knife is a trusted companion for adventurers who demand uncompromising performance in their expeditions.
Conclusion
The ESEE-5 knife stands tall as a testament to ruggedness, reliability, and versatility.
This knife is an indispensable tool for outdoor enthusiasts, survivalists, and adventurers alike.
When you need a dependable companion for demanding expeditions, the ESEE-5 is a trustworthy choice that won't let you down.
Interested in folding knives? We reviewed them here.