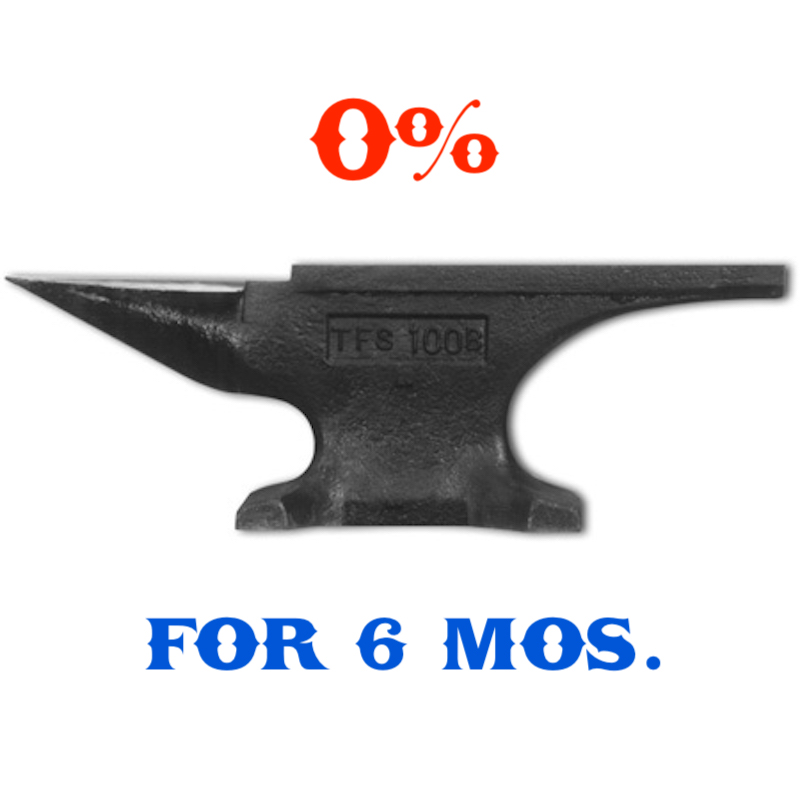 Anvils can be expensive. In this post, we'll talk about how to finance an anvil at zero percent.
No gimmicks. You can do this today and have an anvil by next week.
How to Finance an Anvil at Zero Percent
Part of the mission of Brown County Forge is providing high quality information to aspiring blacksmiths.
Critical to that goal is providing good information on obtaining equipment.
We talk about anvil pricing and where to buy them every week in class.
Here is how to buy big anvils without huge up-front costs.
Step One: Qualify for Financing
This might sound intimidating, but it's pretty straightforward.
The most common company you'll deal with to get financing for online purchases is still PayPal.
They offer a service called PayPal Credit to people with relatively good credit history.
This service makes it easy to purchase large items for no or low amounts of money up-front and 0% interest if paid within 6 months.
They will do a credit check. Be prepared for both soft and hard pulls on your credit history.
To qualify: Go to PayPal Credit
Step Two: Find an Anvil You Want to Buy
You have a lot of choices in anvil brands today:
Atlas Knife and Tool
Cliff Carroll
Emerson
Kanca
Mathewson
NC Tool Company
Peddinghaus
Scott Anvils
TFS – Texas Farrier Supply
Not all of these anvils are for sale with PayPal Credit as an option.
Here are two blacksmith suppliers that use PayPal payments:
Blacksmiths Depot carries Ridgid-Peddinghaus, Refflinghaus, Kanca, and Perun anvils.
Texas Farrier Supply only carries their range of anvils in the following weights:
30 pound TFS Blacksmith Anvil
100 pound TFS Blacksmith Anvil
150 pound TFS Blacksmith Anvil
200 pound TFS Blacksmith Anvil
250 pound TFS Blacksmith Anvil
300 pound TFS Blacksmith Anvil
400 pound TFS Blacksmith Anvil
500 pound TFS Blacksmith Anvil
Step Three: Purchase the Anvil Using PayPal Credit and Pay it Off in 6 Months
Paying it off in the six-month time frame is the important part here.
If you fail to pay off the balance, the APR is 28.49% for new accounts.
That starts to add up very quickly on an item that costs between $500 and $3600.
Note: If you struggle with budgets, please don't use this method.
Blacksmithing is an amazing craft. But you shouldn't risk your financial health to get started.
If you have a hard time keeping a monthly budget, financing large purchases may be too risky for you.
Please act accordingly.