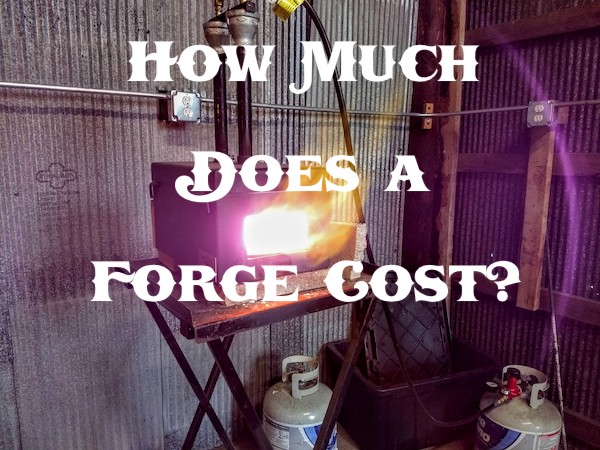 One of the first questions that comes up for new blacksmiths is "How much does a forge cost?"
Saying it "depends" doesn't quite cut it, so in this post I'll lay out all the information you'll need from Do-It-Yourself Coal Forges to a Ready-to-Use, shipped to your home Gas Forge for Under $200.
How Much Does a Forge Cost?
DIY Coal Forges
Coal forges are generally the easiest to build. For that reason they can be the cheapest.
At a bare minimum, here is what you would need to find or buy for a DIY coal forge:
A solid steel basin – Can be an old sink, lawn mower deck, charcoal grill, etc.
Black piping (non-galvanized) to direct your airflow.
A grate to keep the coal from falling into the pipe.
Some sort of blower. This can be a hair dryer or an exhaust fan. I don't recommend a leaf blower as these are usually too powerful.
Coal.
All of the things on that list can be found for next-to-nothing.
Manufactured Coal Forges
The Centaur Handy Forge with Vulcan Firepot has everything above in a much more refined form.
It will run you $682 with $13.95 shipping within the continental U.S.
It is sold by CentaurForge.com.
Another example of forge pricing is the DIY Coal Forge Set from Blacksmith's Depot. You put it together and it costs $585.
It doesn't include a table or cart.
Gas Forges
There are three main manufacturers of gas forges I recommend to my students.
Majestic Forge
NC Tool Co
Forgemaster
I recommend these three because I've owned and used all three of them for years.
They have all been battle-tested by hundreds of blacksmiths who will swear by them.
Majestic Forge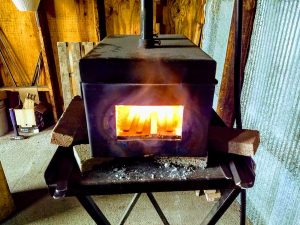 The forge I use most in the shop is a Majestic Knifemaker Economy Forge (pictured above).
It has two burners that feed into a compact firebox.
It cost $325 plus $52ish to ship from Ohio.
For a beginner, this is a great forge that will last you a long, long time.
NC Tool Company Forges
The first forge I ever owned was a two-burner NC Tool Company Forge.
I loved it.
It traveled all around the country with me while I was still fighting wildfires for the Forest Service.
The model I had cost me $240 used.
A similar model today will run you $575 plus $13.95 flat rate shipping.
You can find NC Tool Company Forges here:
Forgemaster Forges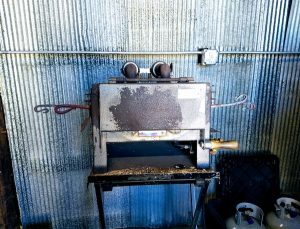 The big beast in my shop is a two burner Forgemaster forge.
It has a front bay door and two side ports so you have a lot of options for piece size and length.
It also has dual valve controls for the burners so you can direct where your heat is.
It's retail price is $860. with $13.95 flat rate shipping from Centaur Forge.
If you're just starting out, there's no need to go this big.
There's no need to spend that much money on a forge at all.
You can have a very long, successful career as a blacksmith with an economy-sized Majestic like the one I use every day.
Looking for Something Under $300?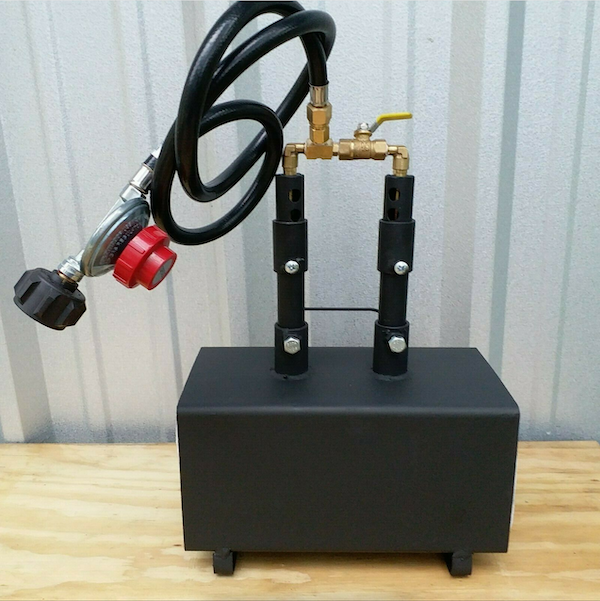 My top choice for an economy forge that's less expensive is the Double Burner from Laredo Blacksmiths pictured above.
I've had multiple students try it out with solid success.
Here are a few key points:
2 Burners with adjustable chokes
Under $200 with Free U.S. shipping
Oval shape for good heat distribution
What Factors Should I Consider When Buying?
When you're buying a forge, you should keep these things in mind:
What am I going to forge most often? Size, length, carbon content, etc.
How much fuel do I plan to use? More burners equals more fuel.
How much can I afford right now? Probably the most important factor. The most common piece of advice I give is to work your way up.
In Conclusion
Forges can cost anywhere from zero dollars if you're scrappy to over one thousand dollars.
The whole range is available on a handful of websites:
Compare prices and shipping packages across all of them.
If you're interested, you can also save time and money by picking up a copy of the book I wrote on the subject:
The 2019 Anvil and Forge Buying Guide