Terran Marks teaches weekly blacksmith classes at Brown County Forge.
The classes come in two formats:
Beginners Class – This class focuses on five fundamental blacksmithing skills: drawing out, scrolling, quenching, bending, and twisting. The class is project-based meaning each student starts with a fresh piece of metal and forges it into a finished piece.
Knife Making Class – This class is also project-based, but it's more specific that the Beginners Class. Each student takes a standard railroad spike and turns it into a functional knife.
When Are Weekly Blacksmith Classes?
The Beginners Class currently starts at 10 AM on Saturdays and wraps up between 12 and 1 PM.
The Knife Making Class begins at 2 PM on Saturdays and ends by 6 PM.
These are the set class times each week.
However, time during the week is available for private lessons/special appointments.
Terran would be happy to set up a class time Monday-Friday with you.
Classes run from early March through mid-December. (February in Indiana is usually just too darn cold.)
How Much Do Classes Cost?
The Beginners Class is $120 per person for the single session.
The Knife Making Class is $220 per person for the single session.
Can Beginners Take Either Class?
Yes! Absolutely.
Both classes are set up for complete beginners. No prior experience is required.
Out of the 581 student projects coming out of the shop, 98% of them were made by beginners.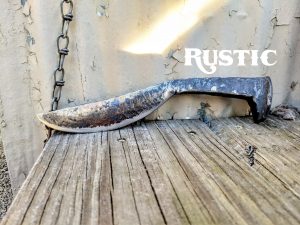 How Old Do You Have to Be?
For safety reasons, the minimum age is 14 for both classes.
A parent or guardian must be present during the class. However, they are not required to participate.
How Dangerous is Blacksmithing?
On a scale from sitting on the couch to jumping out of an airplane:
Blacksmithing is less dangerous than using chainsaws.
It's also not as dangerous as driving a car.
The biggest difference between driving a car and blacksmithing is the variability of other people.
In blacksmithing, at least at Brown County Forge, your environment is carefully controlled.
Terran takes great care in mitigating risks in the shop and explaining what can happen.
Where Can I Find Out More About Weekly Blacksmith Classes?
The Classes Page has more information and available dates.