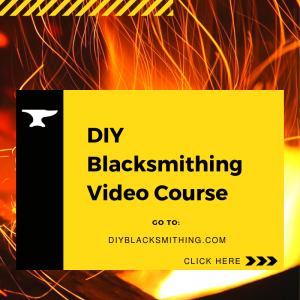 If you'd like a more organized, easy to follow, step-by-step plan for getting started, we built it for you.
Taught by a professional, full-time blacksmith, the DIY Blacksmithing Course covers everything:
Anvil Anatomy
Anvil Stands
Rockwell Hardness
Buying Anvils
Forges
Gas vs. Coal
Buying vs. Building Forges
Forging Temp and Color
Forgemaster Forges
Majestic Forges
Lighting Forges
Fire Pokers
Shop Safety
Hammer Types
Cross Peens
Hammer Techniques
Tong Basics
Tong Techniques
Buying vs. Making Tongs
Mild steel vs. High Carbon
Buying Hammers
Spark Test
Finishing Steel
Buying Metal
Drawing Out
Scrolling
Quenching
Bending
Twisting
Upsetting
Knife Making
Annealing
Thinning the Blade
Notching
Beveling
Straightening
Hardening
Tempering
Profiling
Sharpening
Basic Costs
Creating Your Workspace
…And More.
How much does it cost?
The Gold Package with 55 Lessons including everything listed above taught by Terran Marks, the blacksmith who runs Brown County Forge, costs $97 for Lifetime Access.
Want to Learn How to Blacksmith?
Here's your chance! >>> DIYBlacksmithing.com