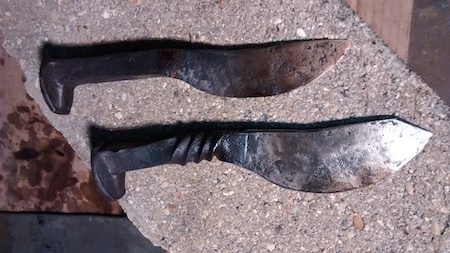 We've been busy at the Forge this month making S hooks, J hooks, Rebar Fire Tools, and Railroad Spike Knives. The knives pictured above were hand-hammered from old rusty railroad spikes, ground into shape, polished with emory paper, hardened, tempered, and finally sharpened.
You can see photos from the process below.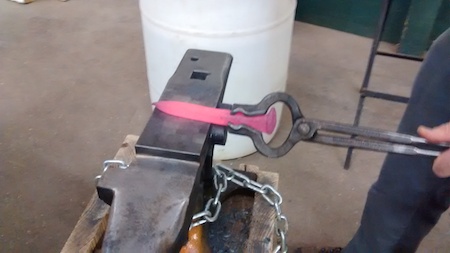 First, we got the spike up to an even heat. By keeping the heat even throughout the piece of metal, we're able to control where the metal goes a little better.
You can see videos of the process on Brown County Forge's YouTube channel.
To hammer thick steel like this, we use a much heavier hammer than we normally would. In this case, we're using a 4 lb. cross peen instead of the standard 2.5 lb.
Once the basic shape of the knife (plus a twist in the handle) is done, there's a fair amount of grinding work and polishing to give it the final shape. Aaron's knife has a large sweeping belly and a drop tip.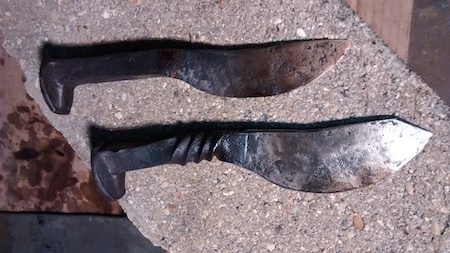 After the knife is shaped, we bring it back up to a red-hot heat and quench it in oil. This hardens the knife and makes it fairly brittle. The knives are set aside to cool completely before we polish them a second time.
This second polish is done so the shiny metal shows through. This makes it easier to see the color change as we carefully heat it up to temper it. In the picture above you notice a slight wheat color in the blades. This is a good level of temper for a knife blade.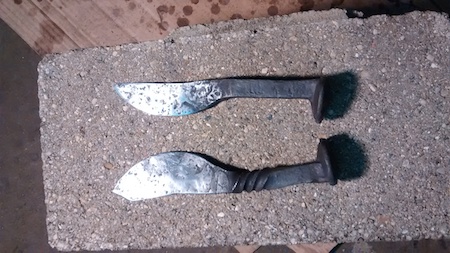 And finally we have the finished blades all polished, sharpened, and ready to go.
Next up:
Rebar Fire Tools and Forging with Family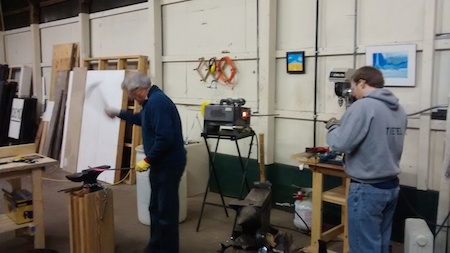 Earlier in the month, we had Jerry and Chris out to the forge to learn some of the fundamentals. We made some S hooks that you can see below.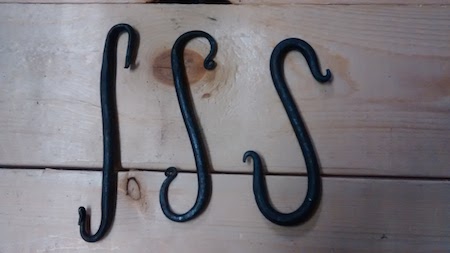 We also made J hooks and rebar fire tools including a scrolled fire rake and poker. Working with rebar can be a challenge since it's much denser than the mild steel we use for hooks. It takes a lot of high-heat hammering to get it to move the way you want. Jerry and Chris did a great job and got results.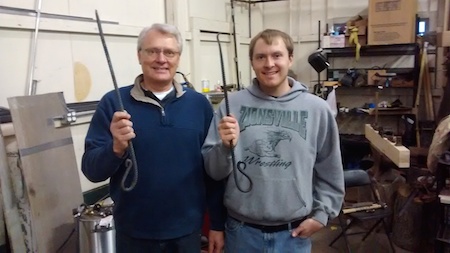 That's what we've been up to in January so far. If you're interested in classes we just made more times available. Check out the Classes page.